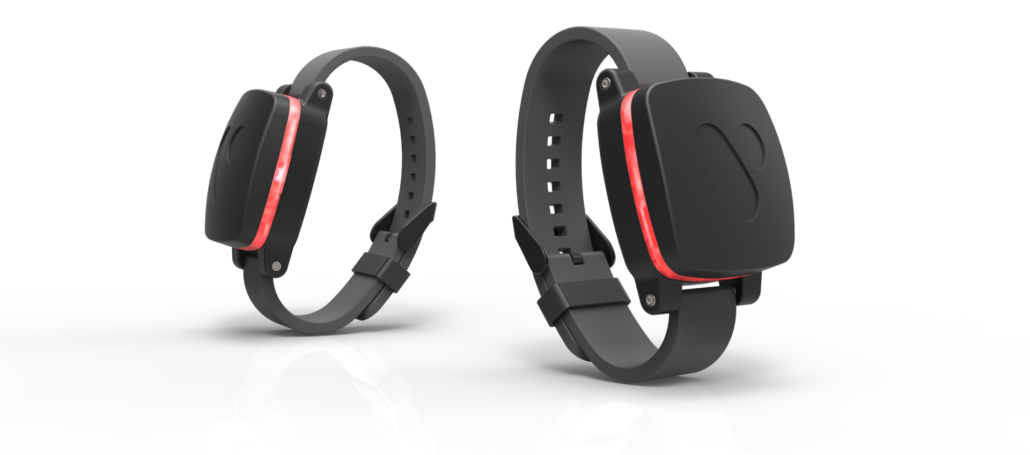 We are excited to announce the Vantage Beacon. The Beacon is a dedicated GPS tracker that enables you to take your tracking shots to the next level. We will be offering the Beacon for free to all pre-order customers, as a way of showing our massive gratitude for your patience waiting for your Snap. We expect it to ship to Beta testers in the next month, all other pre-order customers early summer, and be available for purchase to all by mid-summer.
Our goal at Vantage is to make it possible to capture the moment without missing the memory. This means moving the control of Snap from manipulating complex controls to the intent level, where you simply describe your desired outcome and Snap does the rest. The tracking shot, where Snap automatically follows your movements, is one of the most amazing ways to achieve this intent level control. While we've found the GPS on your smartphone to be a simple and economical way to achieve this, we've also seen GPS accuracy vary. Even with smartphone GPS at its their best, we wanted to get even closer to the action and capture faster movements. Additionally, we wanted to track others, like our kids, but didn't want to give our cell phone to our kids to do so.
After months using off-the-shelf bluetooth GPS beacons with improved results and seeing the reliability issues with current vision tracking solutions, we made the decision to build on what was working and make it even better. Here's how the Beacon will let you take the best tracking shots out there:
Speed: The Beacon updates its estimate of your location 10 times every second. This is 10x faster than smartphones, off the shelf bluetooth GPS beacons, and most vision tracking solutions. This means you can move and change directions faster with the camera closer.
Reliability: Unlike vision tracking solutions, the Beacon works in all lighting conditions and settings and never loses the target if you go out of frame or pass behind an occlusion. We also found this essential when tracking players in identical uniforms for sports, who look too similar for visual trackers to distinguish them.
Accuracy: The Beacon has 1 m (3 ft) position estimation accuracy. This is 5x-30x better than can be achieved with smartphone GPS.
Flexibility: The Beacon works both at close range as well as over 100 m (328 ft) away. The Beacon is waterproof, so you can more easily use Snap for tracking your aquatic adventures. It also can easily be attached to kids, bikes, cars, and whatever else you want to keep up with.
We have been working to get that perfect video that demonstrates just how good tracking can be with the Beacon, and frankly we aren't quite there yet, as there is still more tuning and iterating to fully realize the potential of this new level of speed and accuracy, as well as some little bugs to squash. That said, we have a few new videos to help you appreciate the potential.
This next video highlights our soon to be released "lead mode" in which Snap arcs around you to stay ahead of you as you move.
The Beacon is a next step for us on a never-ending journey to make Snap the easiest to use and highest performance camera for capturing your story. We'll be making more announcements in the coming months that continue to advance what you can accomplish with your Snap for tracking accuracy, range, and features.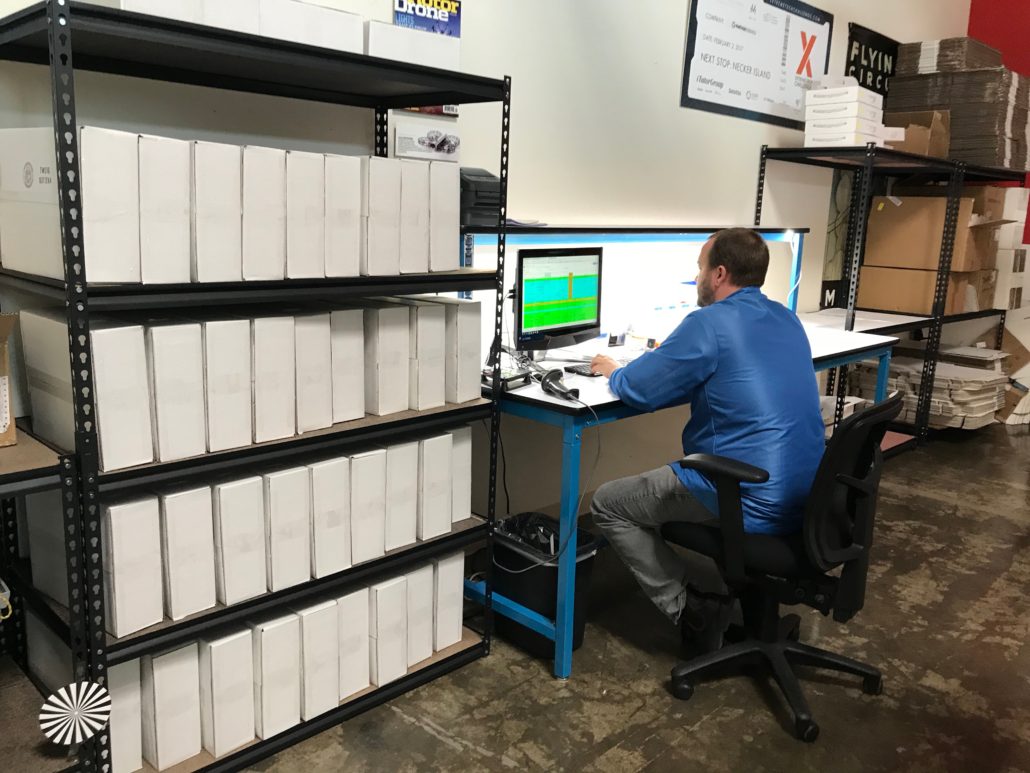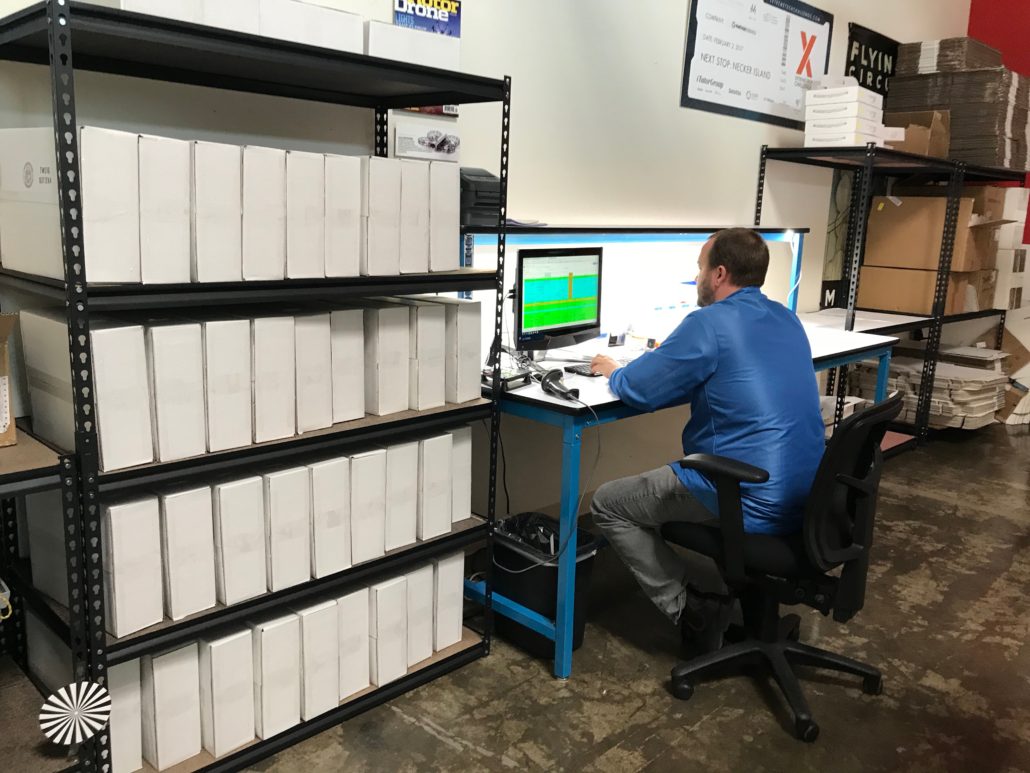 Speaking of shipping, we continue to pump out units for those of you who are still awaiting your Snap. The boxes on the shelves in the picture above are each filled with a Snap bound for one of you. Production has been a bit slower than expected, primarily due to a new yield and reliability issue which can cause some gimbals to stop functioning correctly as well as some lingering yield issues with the Wi-Fi module.
We have found and fixed one culprit for the gimbal issue – a flex circuit connector that connects the gimbal motors to the gimbal control board internally can be put under a small amount of stress due to an internal connector sometimes being slightly misaligned on the circuit board. This can cause the flex connector to disconnect itself over time, even though there is adhesive reinforcing the connection to hold it in place. We have changed the connector reinforcement to prevent the connector from coming off and refined the solder mask and pad design for the circuit board to prevent the connector from being misaligned going forward.
The Wi-Fi board continues to create some yield issues as well as a few customer reliability problems. We now know more about causes for board warping, pad ripping, and SMT cooling profiles than we ever expected we would need to, but as a result yields are up and the latest boards are much more resilient.
Taking care of existing customers with these issues have pushed out our production schedule a bit. Based on this, we're targeting completing our current pre-order shipments by the end of April. We are gunning to get the spare batteries to everyone by then as well, but are prioritizing getting new customers their units first.
For the now many of you who have gotten your Snaps, thank you for all the kind words, helpful feedback, and awesome videos and pictures. We review all feedback as a team every week and it goes directly into our development plans, manufacturing changes, and next generation ideas. You are literally defining the future of Vantage. You have our gratitude and loyalty. Please keep it coming!
Some of our favorites follow below:
As an FYI, I just flew my SNAP on a very windy day here in Chicago (cliche, I know). Its crazy how the SNAP can manage itself in the wind – it's pretty amazing.
Email from Chris L. on Mar. 20, 2018
---
So far, very pleased, it is easy to assemble and get in to the air. The app is relatively intuitive once you've read the manual.
Email from Lindsay Y. on Mar. 15, 2018
---
Snap has been an awesome drone, thank you very much for this masterpiece…
…Once again thank you. Snap is awesome.
Email from Tilson T. on Mar. 16, 2018
---
Hi, Snap came and works well, thank you for sorting it so quickly. I am really pleased with my experience so far. You guys do seem to have delivered on your promise and it really is better late than never.
Email from Macus H. on Mar. 15, 2018
---
After almost three years of waiting, I received my SNAP Drone Camera Platform on Friday afternoon (Thank You, James Squires and Team at Vantage!), and took it out for its first Test Flight this afternoon. I can truly tell you that "The Wait Was Worth It!" With the Vantage Flight Software on my iPhone, it flew perfectly right out of the box. The video feed was excellent to the iPhone Screen, though I made a small error in not realizing the 16GB Video Card was not fully inserted into the designated slot, so the Video itself did not record. Battery lasted about 20 Minutes, then the drone dutifully returned to a perfect landing right on the spot where it lifted off. The platform responded smoothly to every command input during the test flight, and I am extremely pleased by the quality and workmanship of the finished SNAP product. Excellent, rugged design, and a very quiet platform while in flight. It will be nice – and necessary – when Vantage has an inventory of spare batteries for sale, as you will likely want to pick up 3-4 and have them charged-up for extending flight operations. All that said – To paraphrase what Will Smith said in the original Independence Day movie: "You gotta get yourself one of THESE!" Nice job, Team Vantage! Keep em Flying! And Flying Out The Door!
Blog post comment from Ron H. on Mar. 11, 2018
---
Looking forward to your updates! All of them, as I'm sure they'll all be great. You guys have done an amazing job in creating Snap!
Email from Sam J. on Mar. 7, 2018
---
I received my snap last week and I have made good flights and good videos with the device. It's fantastic!
Email from Arne J. Mar. 6, 2018
---
I'm liking my Snap! It's very user friendly. After just a few flights I felt confident enough to use it out over the water boating this weekend!
Email from Sam J. on Mar. 5, 2018
---
My snap arrived on Monday! The weather gave me a quick break to try it out and it was brilliant, I only flew it for a few minutes as it was windy and i have too many trees in my back garden. I was amazed at how stable it was and how easy to play with.
Facebook comment from Marcus H. on Mar. 1, 2018