We have a secret to share. Your Snap has had a feature for several months we haven't told you about, as we wanted to give it some time in the field before fully utilizing it. You don't actually have to remove the battery from Snap, as it will turn itself off automatically. To turn it back on, all you need to do is grab Snap by the battery, activating its capacitive touch sensor. This means that you can store Snap as just two parts in your bag – fuselage + battery and rotor set, reducing the time to launch. (For more on our smart battery, see our earlier blog post here.)
One of our goals at Vantage has been to make it possible for you to capture the moment without missing the memory. When you're out skiing, mountain biking, or hanging with the family, we want to make sure your attention is where it matters, which isn't on Snap. This feature is one of a few exciting tools we have in the works to make Snap the most effortless drone to get into the air, so you can focus on what matters.
iOS Updates
In addition to the battery feature, we also wanted to highlight a few of the many improvements we've been making to the Fly Snap iOS app to help keep you in the air:
Access the user manual anywhere: You can now access the in-app user manual while you are offline. When you access it while you have an internet connection, the app connects to our server and downloads the latest content, so you can make sure to be up to date.
Contact us from in the app: You can now reach Vantage customer service anytime from within the app, either by phone or email. If you are ever confused about a feature, have an idea for improvement, or just want to share some love, we're here and excited to connect with you.
Advanced settings: We've made a few of our developer settings accessible for sophisticated users. You can now switch to numeric GPS strength, re-format the SD card, and recalibrate the inertial measurement unit (IMU) from within the app. Note that GPS strength shown is the EPH value, which is a single standard deviation of lateral position error in meters (we did say it was for sophisticated users…), so the value will get smaller as GPS accuracy improves. Anything less than 2.5 is good. And if you need to recalibrate the IMU, which should only be needed on the very unlikely chance that offsets get corrupted during a firmware update, make sure your Snap is level to within a degree or two and not moving (with great power, comes great responsibility…).
Bug fixes: We continue to squash bugs on every release. The latest release makes takeoff more reliable and fixes an issue where magnetic compass calibration errors would sometimes prevent takeoff without indicating the issue.
Android users – you have not been forgotten. We'll share several Android improvements in future updates.
Manufacturing Update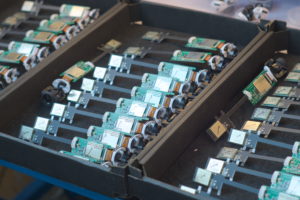 As all of you who have received your Snap know, the list of customers awaiting delivery is now much much shorter. We continue to increase the size of our assembly team and the number of units we ship each week. So far in 2018, we have already shipped 3x as many units as we did in all of 2017. That said, we know not all of you have your unit yet, which we're working around the clock to address as quickly as possible.
The road to ramping production for Snap continues to be bumpier than we anticipate, although the list of fixed issues is now massively longer than our list of to-dos. These fixes not only increase our rate of production, but also improve robustness and quality. Specifically, yields for the Wi-Fi modules are now well above 90% and field failures are down significantly. We are about to transition to an improved tail board to address yield problems and field failures with the magnetometer. The good news for those of you waiting is that this will include several other hardware improvements, including a significantly more advanced magnetometer, improved GPS accuracy, and a new feature we'll announce shortly. Additionally, we are about to start shipping with an improved gimbal design, which fixes the most common failure points we've seen from crashes.
#shotonsnap
Nothing makes us happier than seeing all the great videos all of you are making with your Snap. Here are a few of our recent favorites. As always, adding the tag #shotonsnap is a big help for us to find your videos.