While designing Snap, we recognized that many flyers have strong personal preferences, and we wanted to create an experience that could delight both the beginner looking for ease of use and the experienced user looking for high performance.  Our solution to this challenge is controller flexibility, which lets you fly how you want. You have three different control options with Snap: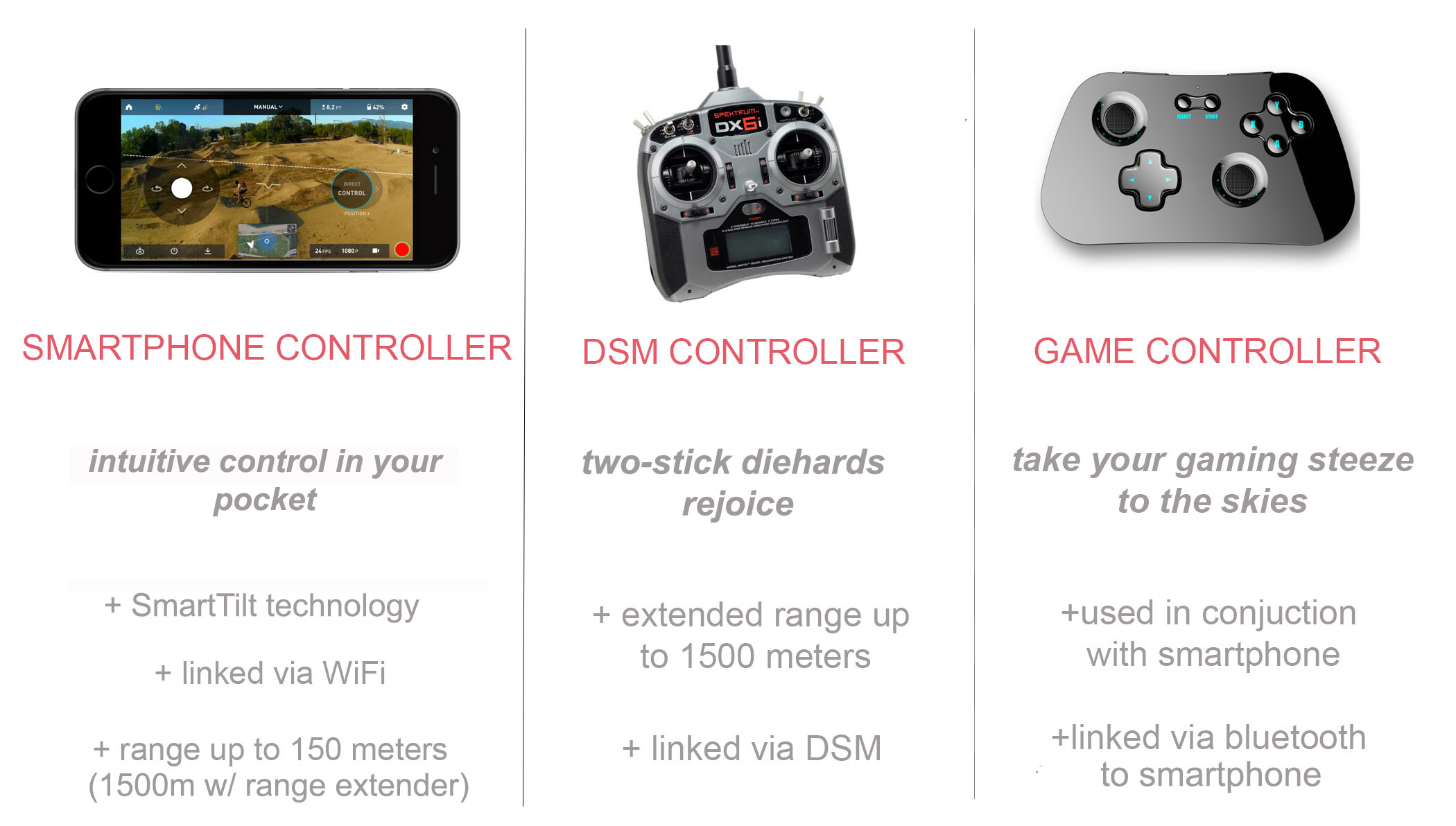 Before creating Snap, the Vantage team used to fly drones with standard two-stick controllers, which allow for the most tactile response. But we were disappointed by their bulky nature, how geeky they made us look, the lack of intuitive controls, and the challenge of extending their capabilities to more capable flight modes. So, we set out to make something better using a controller that everyone already has in their pocket.
Smartphone Controller
For beginners, this is the option that will be easiest to use; it is also the cheapest, lightest, and smallest. Over months of testing, this is the option that the Vantage team has come to prefer. Here's why:
We're using a proprietary technology called SmartTilt that allows you to intuitively tilt your phone while Snap responsively mirrors your motion. No matter the direction Snap is pointed, it always moves in the direction you tilt your phone, based on an automatic yaw transform. Other products with similar features require a GPS fix for this, but it works both indoors and out with Snap.
For instance, if Snap is pointing at you and you tilt your smartphone to the right, Snap will fly to your right (its left). If you tilt away from you, Snap will fly away from you (flying in reverse). You no longer need to make the mental adjustment, because we've done it for you. It's an aspect of the controller technology that we spent ample time refining and re-engineering until we truly got it right.
Using a smartphone has come to feel like the most natural flying option for Snap—and it also lets you fly one-handed, which is, well, handy.
But, regardless of which controller option you use, your smartphone is needed if you want to stream 720p footage from Snap, and view it in real time. In an upcoming blog post we're going to do a deeper dive into our custom-designed app, which will be available on iOS and Android, with tablet capability being added in the near future. Here are some sneak-peeks of the app: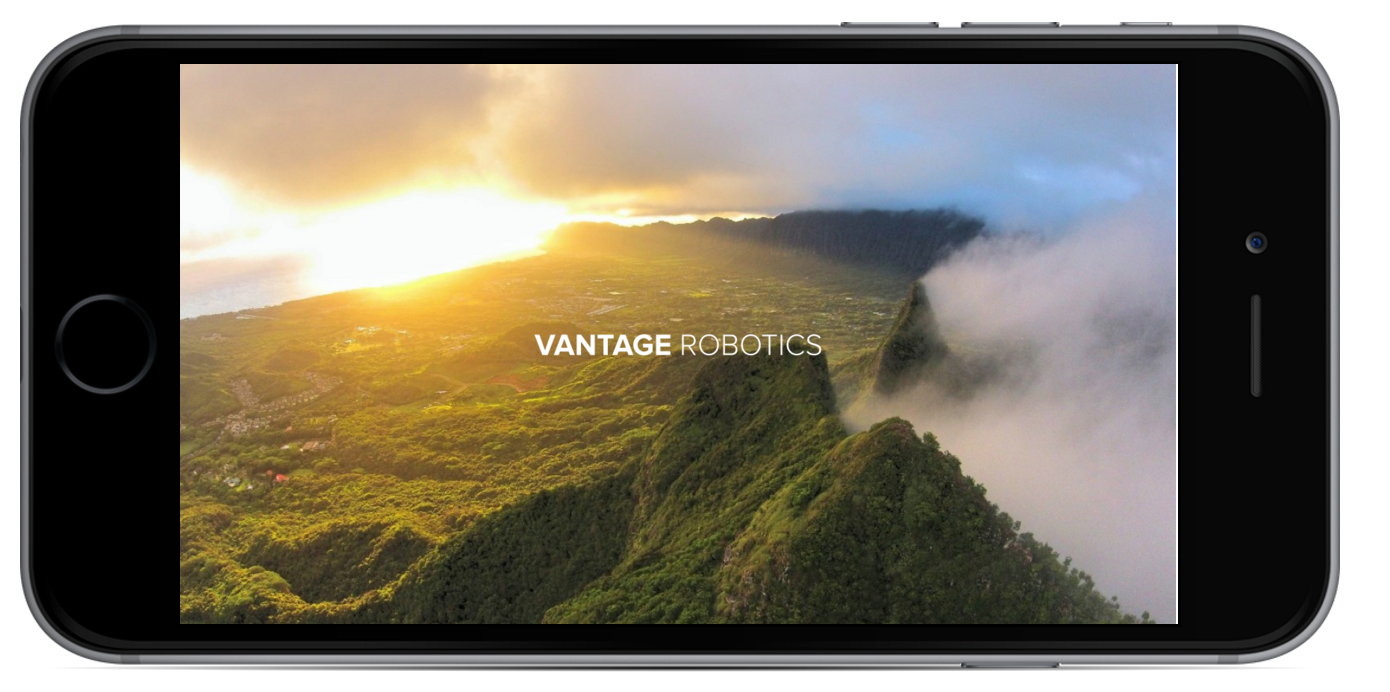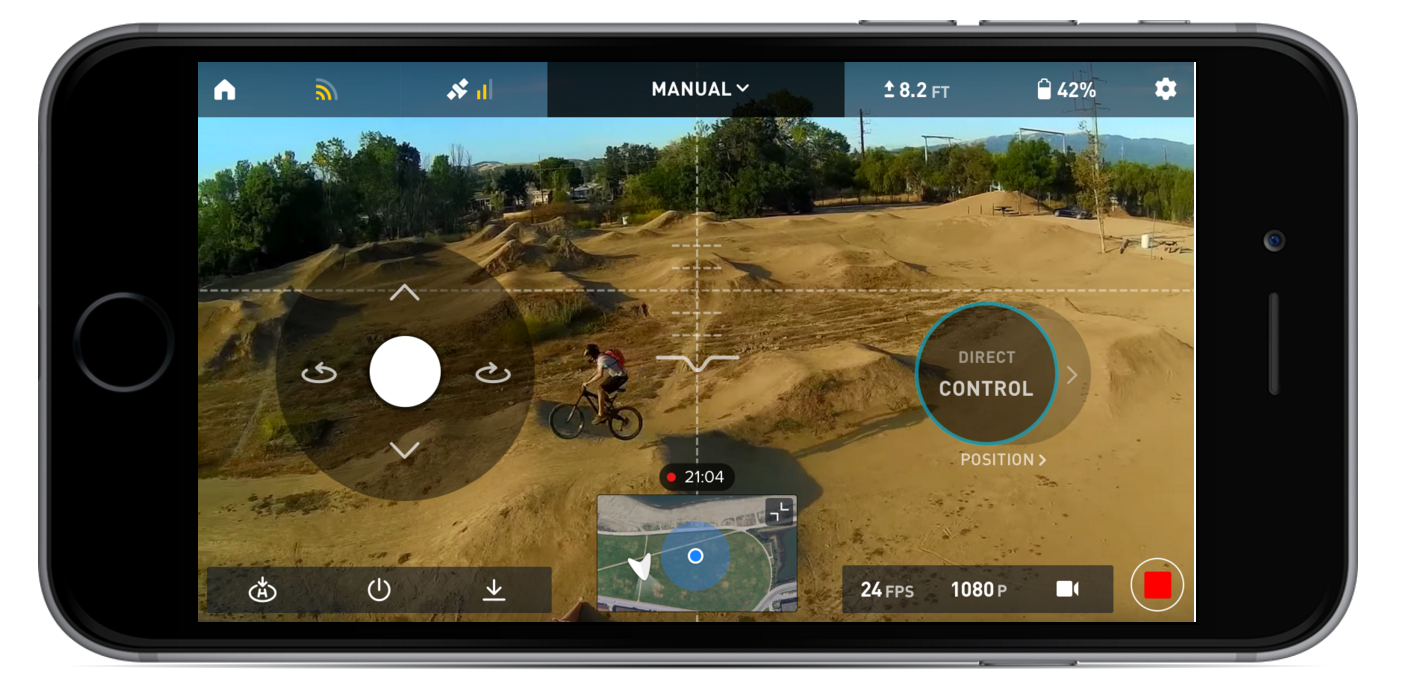 We've invested in an extremely high performance Wi-Fi module that will enable a very robust link between your smartphone and Snap. We find the 150-meter range is more than sufficient for tight, action shots that can zoom out to location-setting shots. And for those really big, butterfly-inducing zoom outs, we prefer using pre-planned flight modes, which let Snap fly out over a kilometer without depending on the Wi-Fi link. If you really wanted to manually control Snap for super big shots, we're developing a range extender that will let you extend that range to 1500 meters.
As you can see below, if Snap loses its connection it will hover in place until the signal is regained, or fly back to you if it isn't.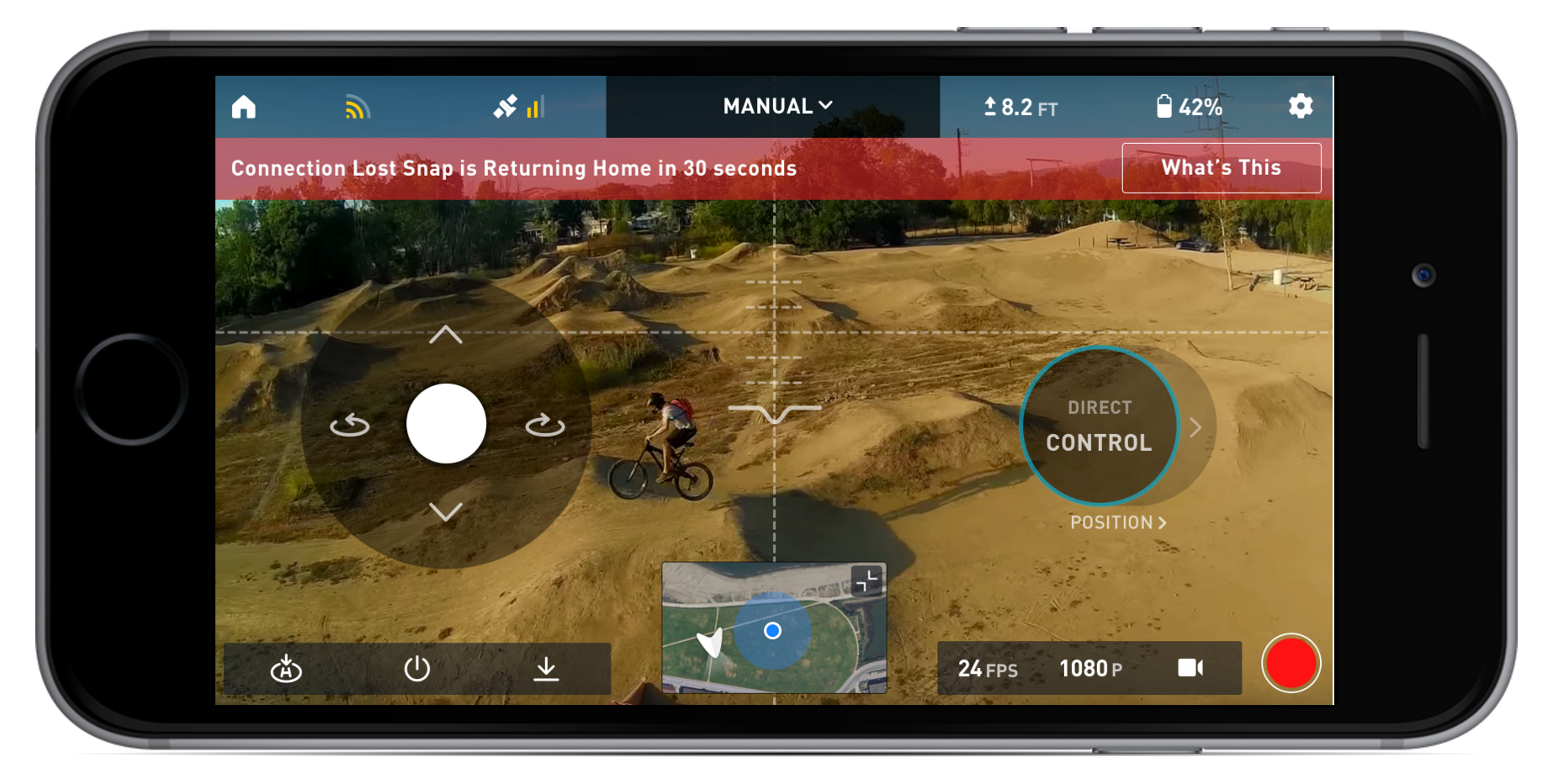 We're confident that you can get the shot you want with our smartphone controller. But we also recognize that the controller is sort of like a paintbrush for a painter, and we didn't want to limit your artistic freedom based on our perspective. So we've invested in making Snap the most flexible flying camera out there, enabling you to fly according to personal preferences.
DSM Two-Stick Controller [UPDATE 11/3/16— you must use DSM accessory module to connect with DSM] We made sure that those who fly with two-stick controllers could still use what they prefer. You can opt for Snap's DSM accessory module (free for customers who pre-order Snap before 11/10/16) which will allow you to link to a DSM controller. The DSM link will allow for extended range up to 1500 meters. Two-stick controllers have the best tactile feedback and offer the most accurate control.
Because the smartphone range only extends to 150 meters, we recommend using the DSM controller with the smartphone range extender: this will allow you to utilize the full range from the DSM and still maintain the live video feed.
Game Controller
Though this may not be the controller option that first comes to mind, for dedicated gamers it will be a familiar tool and give you the bonus of being able to fly something real, outside of the virtual world!  From a portability standpoint, the game controller is less cumbersome than the DSM controller, but just slightly larger than a smartphone, making it an ideal middle size.
You use the game controller in combination with your smartphone so you can see the live stream and get the rich feedback from the smartphone.
Autonomous
You can also fly Snap hands free using one of our autonomous flight modes. We have a lot to say about this aspect of Snap, so stay tuned for an upcoming blog post.
---
We've designed Snap to enable flyers of every level to have ultimate flexibility and get that perfect shot.  We can't wait to see what you create!
Thanks for reading, and we look forward to your questions in the comments. Let us know how you want to fly and we'll do what we can to get you there.
Until soon,
Tobin, Joe, and the Vantage Robotics Team