We know many of you have been eagerly awaiting an update on our progress with Snap's delivery. The team has been working fiendishly to deliver Snap as quickly as possible, making sure you get a product that is worth the wait. Since our last update two months ago, we have tackled a thousand little challenges and few big ones. We've had many successes, but we've also had a few setbacks.
We are slightly behind the schedule we previously shared. Our expectation based on the current schedule is that the Voluntary Beta units will still go out later this summer and the rest of the orders will ship this fall. We believe we can be at the earlier end of these ranges, but until all testing is complete and every last component is in stock and tested with inbound QA, we need to be ready for surprises. We'll make sure to keep you in the loop with all the details behind the scenes, so you can keep up with our progress.
The team has faced three primary challenges that have been beyond our expectations:
Additional board revisions to optimize GPS performance by removing RF interference from our camera
Delays with our tooler completing the fuselage top injection molded part
A supplier significantly delaying sample and volume shipment for one key component
Despite these specific challenges, we remain confident and excited about creating a flying camera like nothing else in the world. A camera that will change the way you capture stories and adventures. We can't wait to get Snap into your hands and and assure you we are moving towards that goal with dedication and conviction.
————–
Nothing significant comes easily and this definitely hasn't been an exception. We're happy to share a much more detailed explanation of our journey through design, tooling, sourcing, and testing over the past two months, below:
Design
When we published our last update, the design was complete, but we still had a few remaining bugs to fix and changes to make that were needed for reliability and design for manufacturing (DFM in product design parlance). In the past few months, the team has addressed issues from our toolers, solved cosmetic problems with tooled parts, and tuned the design in areas where we saw small opportunities for improvement (like getting the magnetic pull force just right for our increased force of the additional pogo pins on our updated battery connector). This effort is largely done, however, we are still in the process of completing a few last DFM and DFA (design for assembly) changes for the gimbal design, as well as finalizing a few details on indicator lighting.
We've also completed some additional design work for ancillary parts like our battery charger and product packaging. Here's an image of the charger below. Like it?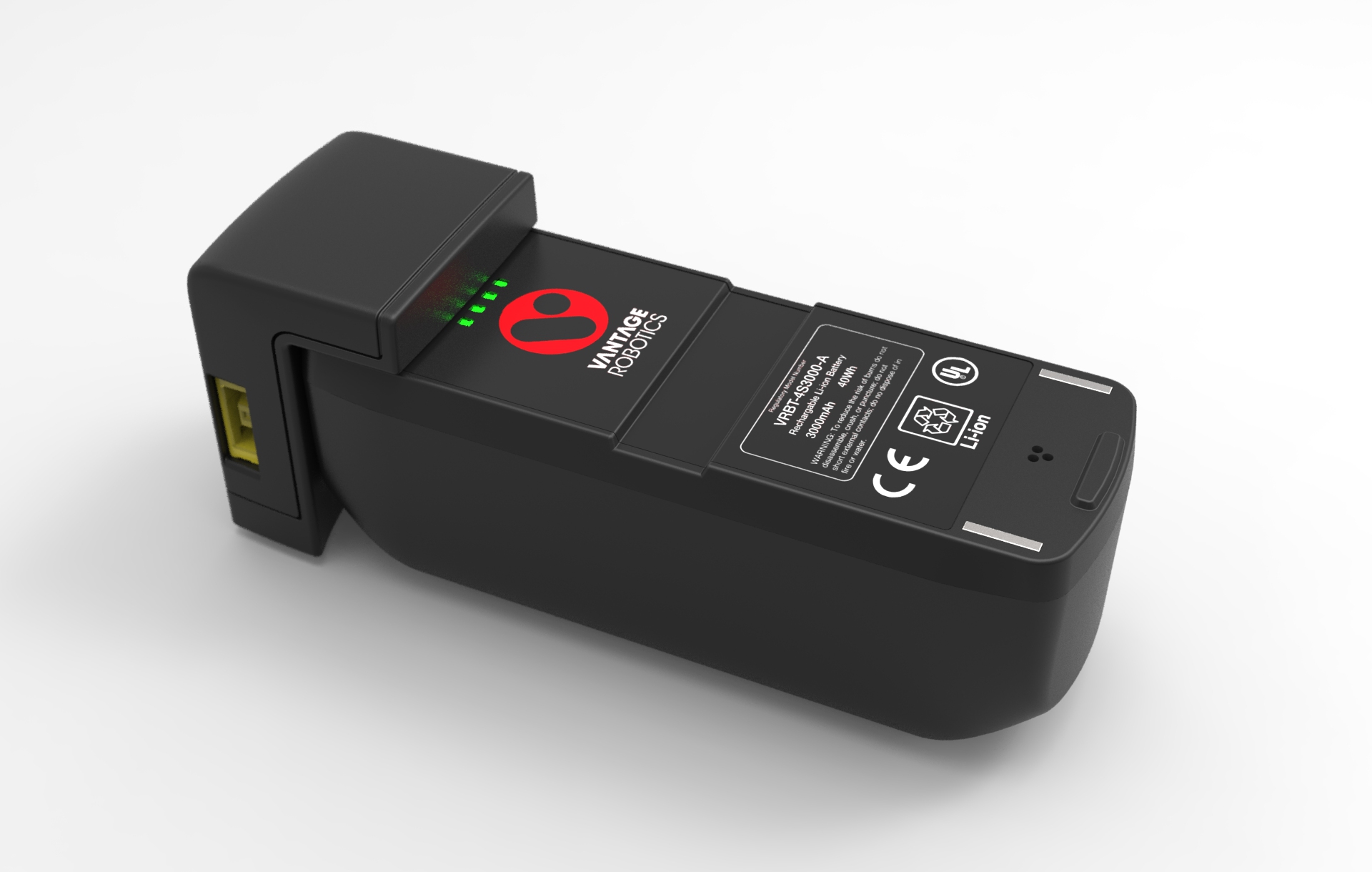 We weren't satisfied with the smartphone interface and decided to redo several portions of the design. Here's a sneak peak of the latest. We'll be sharing more details about the app in an upcoming blog post.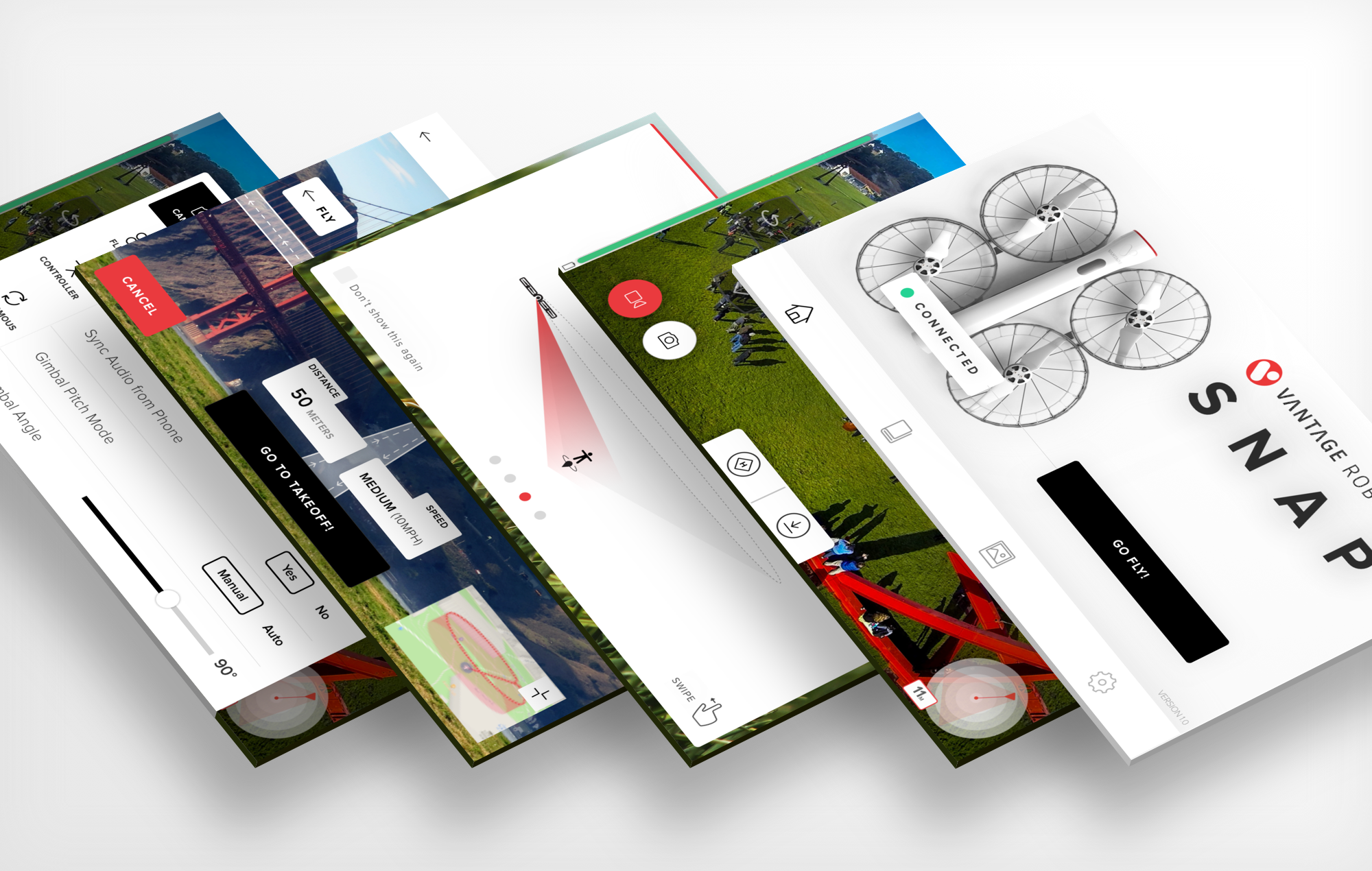 While the bulk of the design effort for Snap's software has been done for a long time, making Snap reliable, spectacularly easy to use, and capable of recording gorgeous video has not been, ahem, a Snap (yes, this bad joke may be repeated again). The team is working on getting those last details right that will truly make the difference between an "oh" and an "oh wow".
Examples include a magical and reassuring take-off experience from your hand, a really cool battery that tells you its state of charge just by picking it up, tuning video compression to remove artifacts in all recording modes, and reliable video streaming from Snap to your phone. Software tends to get completed last, both because it often depends on hardware which needs to be completed first, and because there tends to be lead times for hardware fabrication and assembly that leave bandwidth for more intense software development at the end. We have been steadily growing our software team (per our previous update) to support this final acceleration. Get ready for a number of exciting updates on this front as these details come together.
Tooling
When we published our last update, we had completed several of the hardest tools and expected to have tooling done in two weeks. This did not happen. We recently received the first shots of our fuselage top parts, and needed substantially more back and forth with the tooler than we expected (frustratingly, they ended up making a design nearly identical to what we originally proposed in April). The molder still needs to fix a sink (places where the shrink of the plastic causes indentations in the surface) and short shot issues (places where the mold doesn't fill completely), but we're told these issues are already fixed and new parts are en route from our shop in Korea.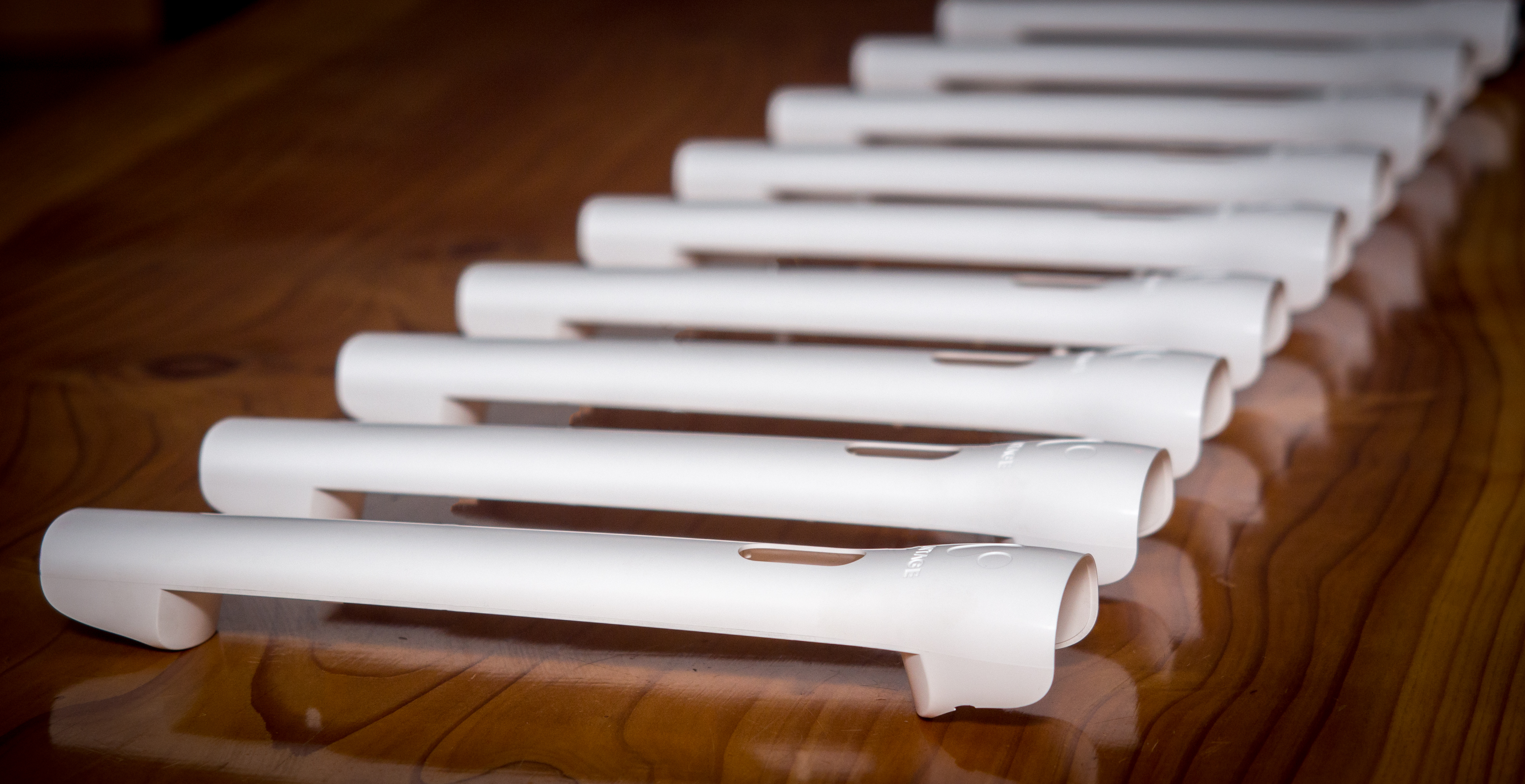 We now have just a few easy parts to go and tooling will be complete after much more effort than we expected. 3-D printed parts work as fine substitutes for all remaining components, so we can now take our testing efforts to the next level.
In addition to making tooling for parts, we have also been creating jigs for assembly as we make the transition to assembling higher volumes and need to ensure consistent quality. Here's a particularly beautiful jig that Aaron Breen, one of our kickass engineers, created for assembling the pod pair parts for our rotor set: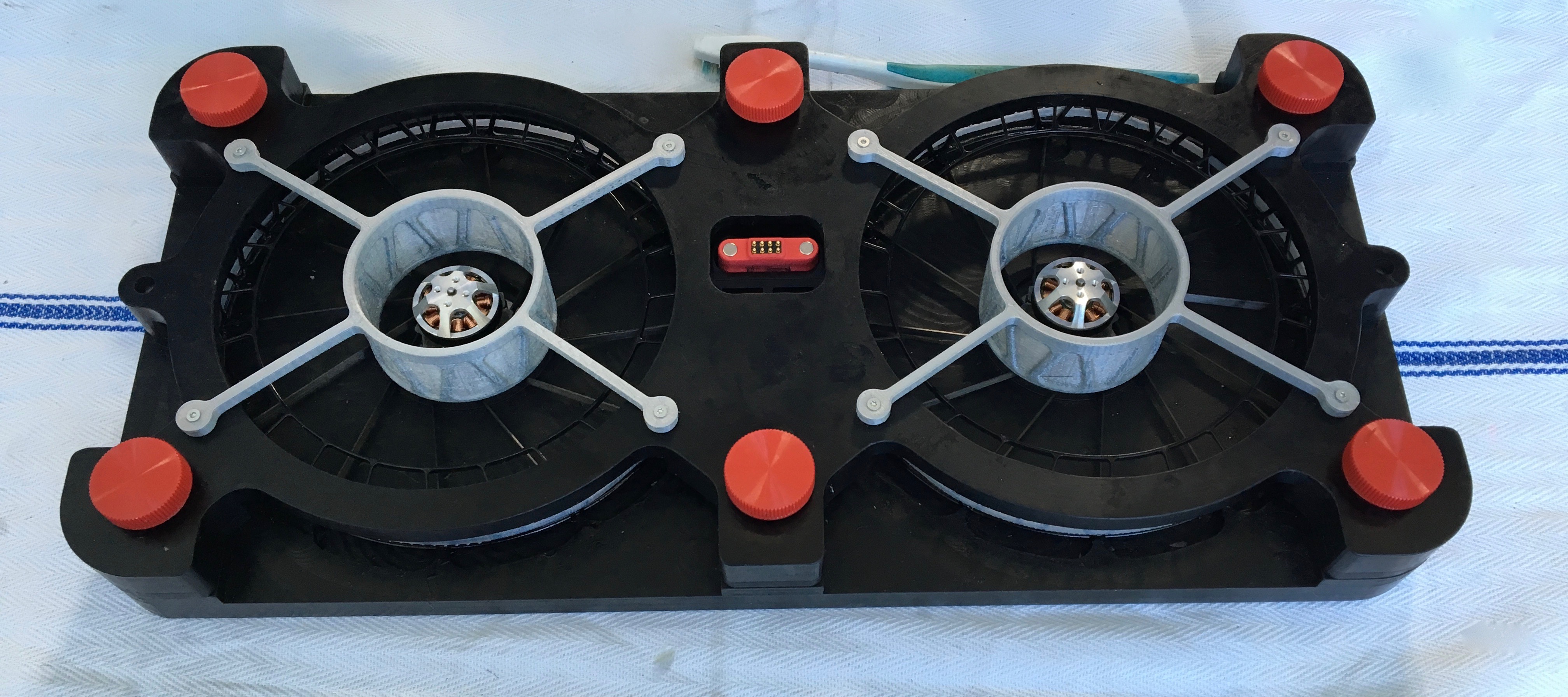 Sourcing
There are 386 unique parts in Snap, with 111 custom parts and 275 off the shelf parts. Over the last few months we've been working through getting sufficient quantities of all parts for production, which has presented new challenges. While 99% of this has been smooth sailing, the remaining 1% has required massive amounts of work (I think we already mentioned the earthquake in Japan shuttering our image sensor factory as one example). The team has solved nearly all of these sourcing challenges and has removed components from the design with upcoming end-of-production lives; almost all of the third-party components are either in stock or awaiting delivery.
Unfortunately, there is a single critical component for which the vendor is several months late on their delivery schedule for both sample units and volume shipments. This has delayed both our testing as well as our anticipated release date for the Beta units. There are alternatives to this component if absolutely needed, but using the alternatives means reducing performance in an area we would prefer to avoid. We are working extremely closely with this vendor to make sure we understand the reason for the delay and expected schedule, as well as to accelerate the schedule where possible. They are committed to our project and we're confident they'll deliver with flying colors, albeit a bit behind schedule. (Note the lack of detail here is out of respect for our relationship with the vendor.)
Testing and Debugging
As we also mentioned in our last update, the scope of our testing process was limited by both the high cost of making parts without tooling (a 23-gram rotor set part started its life as a 2 kg block of polycarbonate) and the scarcity of some key components due to sourcing challenges. Since then, we've steadily gone from scarcity to abundance as we've completed tooling and solved sourcing challenges, and our rate of testing has ramped in parallel. The fuselage top part we mentioned in the tooling section was the final key piece, and we are currently building a 20-unit run of Snaps for internal testing.
The most critical bug has been improving the accuracy of our GPS, which has been getting jammed by electromagnetic emissions from our 4k camera, reducing the quality of the signal it registers from the satellites in space and the tightness of our position control. Conceptually, this is sort of like listening for a friend whispering from 12,500 miles away while a stranger next to you is shouting in your ear. We've done several spins of our electronics to improve this and made massive progress to the point that our camera now has lower emissions in the GPS critical 1.2 – 1.6 GHz range than any other 4k camera we've tested. That said, we still see a bit more room for improvement and we're working to make it happen as the quality of the GPS fix is critical to smoothness of video you can capture.
———-
The road to completing Snap has had a few more twists and turns than we anticipated and we know this has required some patience and understanding on your side as you await delivery. Thank you for your continued support and kind words of encouragement throughout this process. We can't wait to get Snap in all of your hands and see the amazing things you are going to do with it.
Our best,
Tobin, Joe, and the rest of the Vantage Team