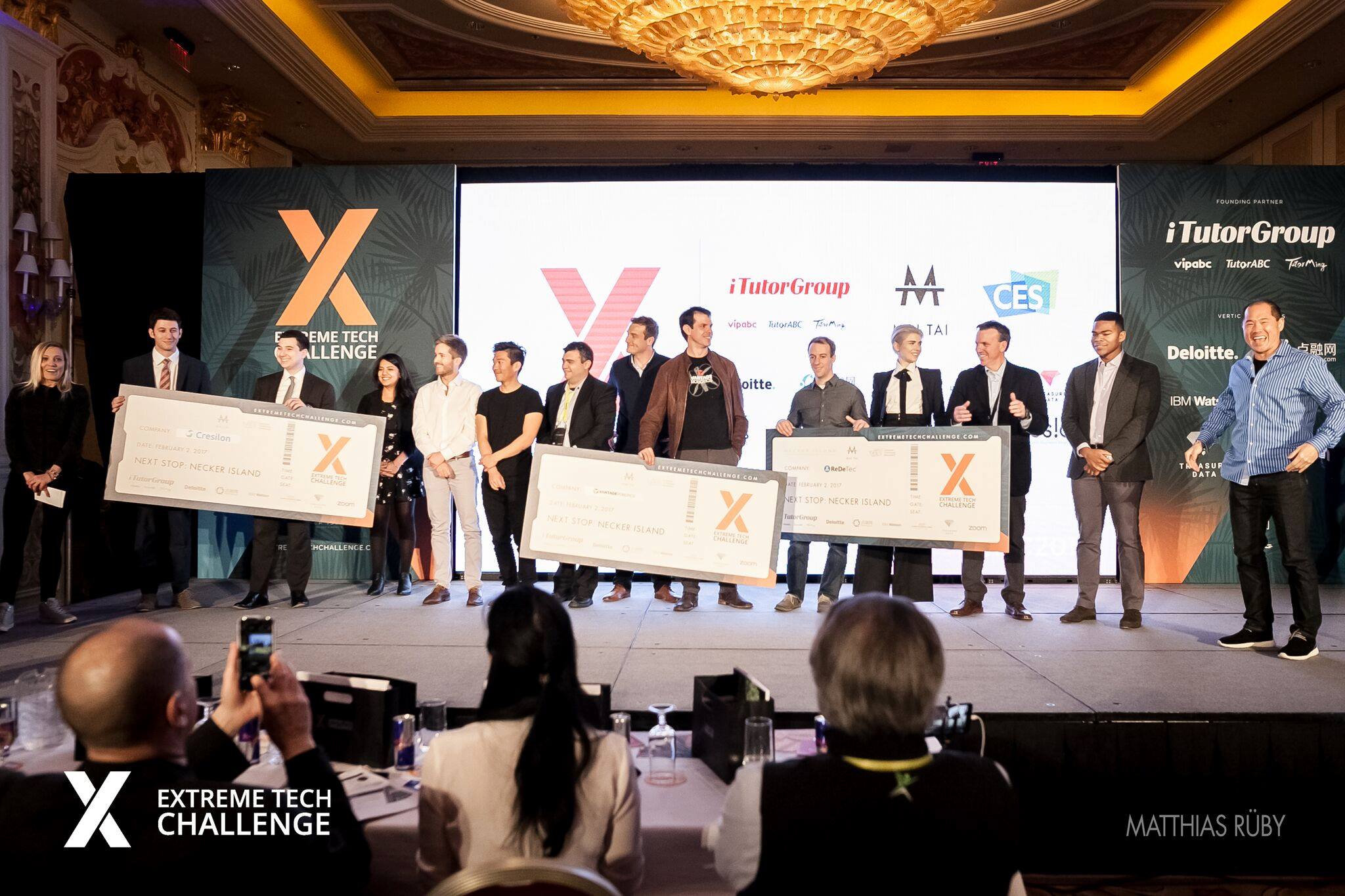 Several weeks ago  Vantage attended CES with the Extreme Tech Challenge as one of the top-ten finalists, and, as the picture suggests, we finished in the top three out of 1300 applicants! Next stop is Necker Island in early February to pitch a panel of judges including Sir Richard Branson himself.
The Extreme Tech Challenge (XTC) is one of the largest startup competitions in the world, and CES is the stage for a round of live pitching. You can check out Tobin's pitch below — it starts around the one-hour mark:
XTC's video below will give you a better sense of what will happen on the island.  As co-creator Susi Mai mentions, it combines fun and business in a unique way— hard to beat a beautiful setting and the company of inspiring and smart people.
It was incredibly satisfying for us to receive this level of validation from such a well connected and experienced group of judges, especially given the impressive competition. But what matters most to us, above all else, is delivering a product to you that enables an out-of-this-world level of creative freedom and satisfaction. Building and improving upon a product with Snap's level of complexity requires rare and amazing people, a worldwide network of technology suppliers, and of course, financial resources. The community we will be meeting with on Necker Island will help us continue to expand our capabilities on all of these fronts, so we can make sure to stay on the (figuratively only) bleeding edge of what's possible and serve you for years to come. (And yes, the chance to go kitesurfing in the caribbean from a billionaire's island is nice too. But then we're back to work!)
In the meantime, the Vantage team continues to refine beta units, get more Snaps in the hands of beta testers, expand and improve our production line, and and work through a myriad list of logistical challenges. We'll be sending out a more detailed update on delivery progress later this week, as we know all of you are eager to get your Snaps. The short story for those who can't wait is that Snap is working well and scale up logistics are the primary hurdle between now and you getting your Snap.
Stay tuned for more updates and thanks for following our progress, as always!
— The Vantage team